Difference between revisions of "ProjectionMapping"
Jump to navigation
Jump to search
Line 7:
Line 7:

== Equipment ==  

== Equipment ==  






There's a dizzying array of crazy light projection equipment out there. What's nice to know is that in addition to the smaller projectors there are also a lot of older projectors available at SudoRoom as well.

 

 

's

 

.

 

 

What

's that to there are

 

a of available .

 






== Inspiration ==

== Inspiration ==
---
Revision as of 20:22, 15 March 2022
Projection mapping projects at sudoRoom in collaboration with Noisebridge and the cartoonists of San Francisco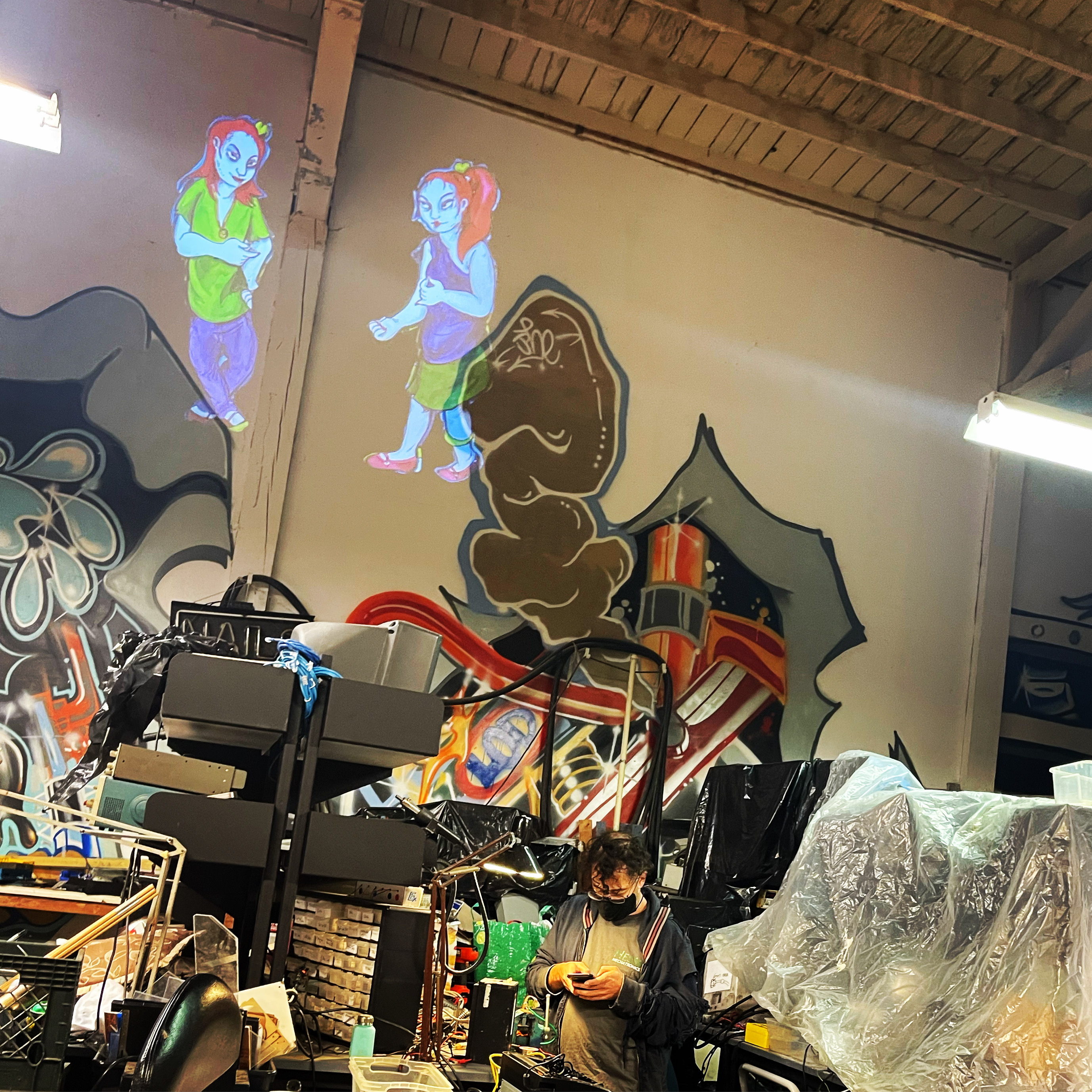 Check out the progress with more photos and explorations on the SudoRoom blog tagged projection mapping
Equipment
We have a common light projector to be shared by all named Homer
Homer
Homer is a purple Benq PB8220 - in time we will be decorating him with a face, but he's still growing into his role.
Caption text

| Thing | What is the thing | Comment |
| --- | --- | --- |
| Brightness | 2,200 Lumens | So bright it can be projected against the sudoroom ceiling with all the lights on! |
| Resolution | 1024x768 | Works for me! |
| DLP Tehnology | Less visible pixels more portability! | Confused - if it's DLP doesn't that mean we don't have to focus? there are focus knobs on it though |
The BenQ PB8220 Projector is a XGA Portable Projector. This lamp based projector is capable of displaying 2,200 Lumens at its brightest setting with a native resolution of 1024x768 . The internal DLP technology touts higher contrast, less visible pixels and more portability. This projector was first available for purchase in April 2003 and has been discontinued by BenQ.
Inspiration
There's a lot of great stuff out there, but what stands out are projects that speak to the human condition.
Krzysztof Wodiczk's art projections in Tijuana
https://library.ucsd.edu/dc/object/bb69996474
Learning
Blender
Using Blender for projection mapping
https://github.com/stuffmatic/blam/wiki/Video-Projector-Calibration
Links