SudoMate is an all natural, open source Mate Soda.
SudoMate is a Club-Mate like drink sudo-manufactured for sudo-profit ($135 as of May 22 2013 + $68 at June art murmur) .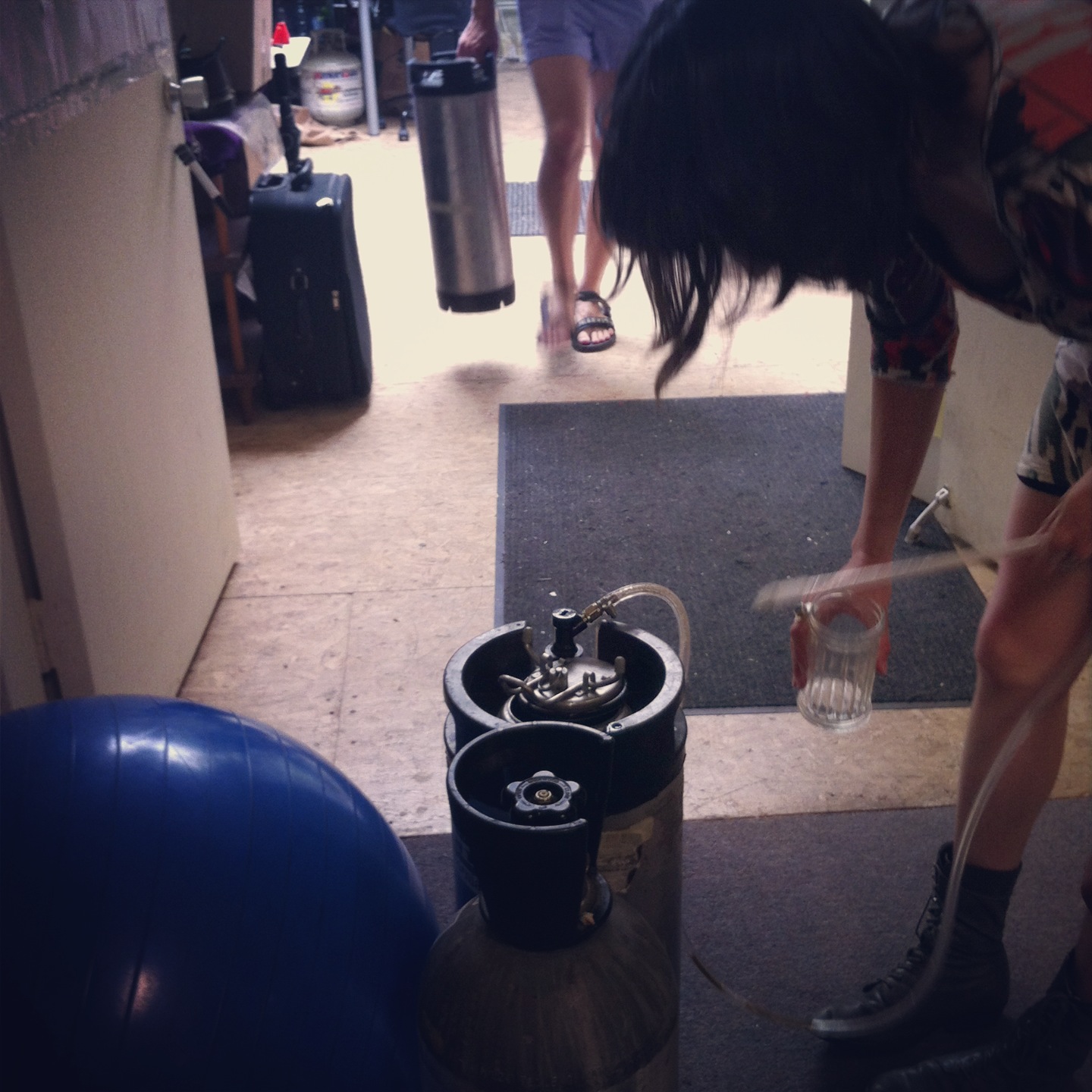 SudoMate Mk. 5 Recipe
SudoMate Mk.5 debuted at the First Friday Event at Sudo Room, Oakland, CA.
The batch was created hours earlier by Ray Lai & Max Klein with help from Ari Kahn. A Rube Goldbergesque heat exchange was created to watercool the boiling hot mate in time for the event.
No one was burned in the making of the batch.


Learnings
What we are learning from time to time
From of Batch #1, #2 and #3
RECIPES ETC
Vanilla extract makes for a really nice aroma. REALLY AWESOME TO HAVE! GETZ IT!
Salt-lite, mix of potasium and sodium 50/50, is even better than salt. More electrolytes.
PROCESS, GEAR
Bigger pot for main-batch - our keg is 5 gallons. Morten can bring the Subiir turkeyfrier for brewing for next time.
More containers and things to pour from, into and through in general.

Getting a big and fine strainer along with a corresponding funnel would be very awesome.

It was a bit confusing that there were a lot of opinions on each batch. Making batches with separate master chefs worked really well to counter this.

However, it was a bit messy with a lot of batches going on at once. Better space preparing and workflow would improve this greatly.

A designated documenter made sure documentation was happening; it worked well that said documenter said ready by the keyboard, doing Just In Time documentation (ie. chefs would simply say numbers as they added, as it was all very experimental).
Bottling from Keg, links
Counter-pressure bottling:
Meeting
Tuesday 16th April 7pm at Sudo
Tuesday 23rd April 7pm at Sudo
High-Level Jobs Left To Be Done as of April 10 2013
Please sign your name next to an item to indicate you're working on it
Make mate - Naomi, Ray
Determine Carbonation Process Ari, Romi [ Romy bringing Sodastream for first meeting- we will want to move to a non proprietary carbonation process eventually ]
Bottle The mate Ari
Sell the mate - Maximilianklein (talk)
Budget
Initial Funding: up to $300 ($200 left) $20 on intial mate Target Sales: $200 - $300
I'll pledge $80. --Nthmost (talk) 11:41, 12 April 2013 (PDT)
Business Plan