Mesh/Presentations/Coalition-Building for Community Wireless Networks
Jump to navigation
Jump to search
Workshop Description
Coalition-Building for Community Wireless Networks ( view program )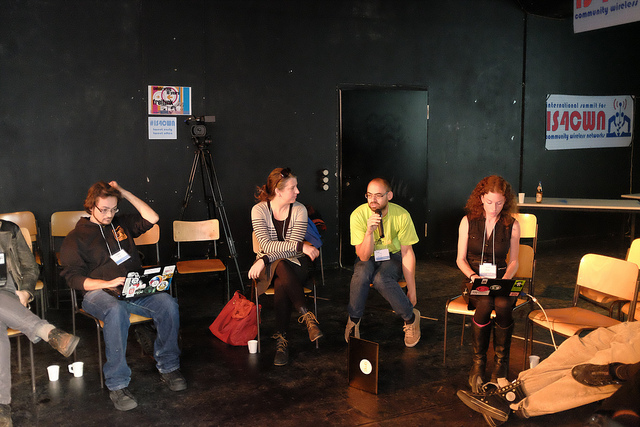 Presenter(s): Jenny Ryan
How do free network projects create and cultivate collaborative working relationships with a diversity of community organizations? How do we find a balancing point between existing institutional structures and emerging grassroots endeavors? How do we create stronger relationships with each other for sharing our experiences, ideas, knowledge, and code?
The first half of this workshop will consist of a resource-sharing circle for briefly introducing ourselves, expressing our needs, and offering our knowledge, skills, contacts, and other resources for each other. Together we'll create a community asset map that reflects the larger ecosystem of free networks, knitting together a tapestry of the projects, people, and places where networks are beginning, burgeoning, and blooming.
The second half of the workshop will be a brainstorm/mind-mapping session, in which we collectively identify community stakeholders and personas. From there, we'll share our experiences with building bridges to other groups, teaching and learning from existing communities, and working through the intricacies of municipal internet policy, ISP regulations, and funding opportunities.
We'll conclude the hour with a breakout session of small groups if desired. Post-workshop reflection will take place on an etherpad and extend into hopefully long-term collaboration. The end goal is to learn and hone a technique for identifying community needs and solving problems through the structure of an egalitarian gift-giving circle, in which the primary intention is mutual aid.
Workshop Notes
Post-Workshop Hackathon
Introduction
         \|/

▄████████████▄▐█▄▄▄▄█▌ ████▌▄▌▄▐▐▌███▌▀▀██▀▀ ██▄█▌▄▌▄▐▐▌▀███▄▄█▌ ▄▄▄██████████████▀ (a *very* cute fail whale)
Meta
wiki formatting syntax in this pad
cheatsheet:
Who
A list of meeting participants and (optionally) their contact info if they choose to share.
physical participants:
virtual participants:
What
Hackathon for creating a distributed system for sharing project data, focusing on:
wishlist (offers and requests)
geographic mapping.
The outcome of this should be a plattform that allows easily exchange of offers and requests. This should be able to load module like a map to enhance the use of the plattform
Where
The type of meeting: brainstorm, traditional meeting, emergency huddle, etc hackathon
Meeting place(s), whether or virtual. OSM bitly/c-base-osm / Google Maps bitly/c-base-map links are especially useful.
Time and Date of the meeting. If international, give times for each major timezone that is relevant.
When
6 October 2013
starts: 2pm
ends: late
Why
Rationale for the meeting taking place: Facilitate cross-community collaboration and communication for libre networks; extend conference conversations beyond the temporality of the conference itself; foster greater visibility of projects to each other; create a platform for sharing resources, knowledge, skills, code, pro-tips, etc;
The agenda of the meeting:
[done] Define desired outcomes
[begun] What software toolchain should we use?
[begun] Data structure and taxonomy
How
Join us on irc: #is4cwn on irc.freenode.net
collect thoughts in this etherpad
edit.this.process()
create an agenda
<add here>
Past
Progress made since the last meeting: https://pad.riseup.net/p/is4cwn2013
updates since last meeting
It may be helpful to copy the last meeting's "Future" section here as well. Minutes
Account of important points made during the meeting
Future
A list of decisions/tasks and who has taken responsibility for their execution.
Link Dump
Relevant IS4CWN Documentation
link to Jenny's gift circle: Coalition-Building Workshop

review this last meeting and follow up on outcomes.
Organizational Inspiration
(Data) Relevant Data Sources (places to get data)
(Data) Relevant Data Sinks (places to put data)
Docs
Protocols
(Software) Relevant Software Projects:
(Software) possible pieces of the puzzle
Use Cases
Brainstormdump
Issues attached to nodes
Community field and URL