User:Wolfy
Jump to navigation
Jump to search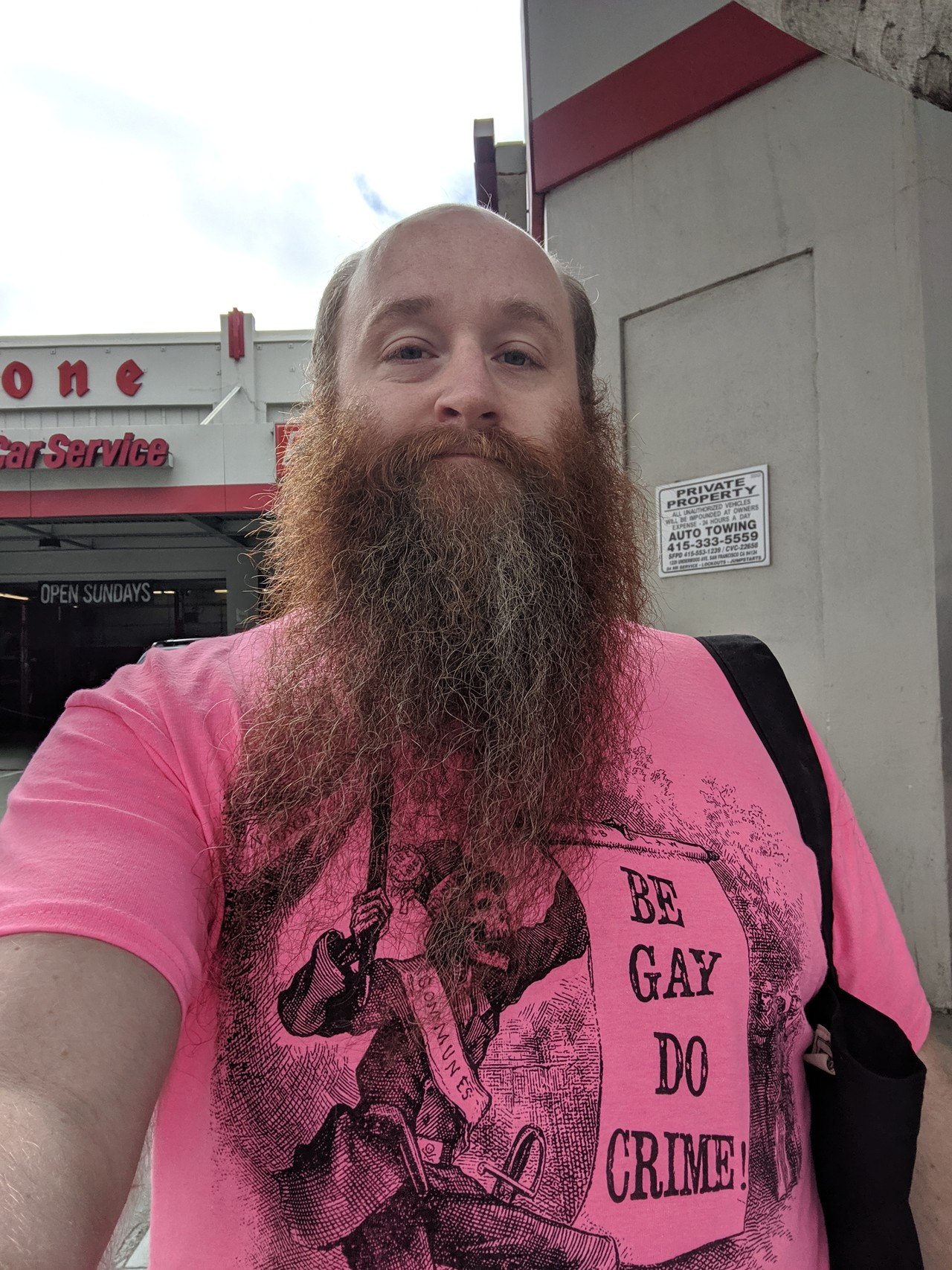 My name is Matt Meier, most call me Wolfy. Got my first basic stamp in the 4th grade and have been microcontroller and electronics addicted ever since. Deployed my first Linux web server in the 8th grade. By day I am an IT consultant specializing in Linux/Mac admin and VoIP.
My geeky obsession is Home Automation. When I'm bored I tent to design devices to monitor the general state of something in a home. Whether it be the temperature of the water to how much TP is left on the current roll.
Contact
IRC: TyrMactire
E-Mail: wolfy [at] wlfy [dot] it
Things I Sorta Know
PHP, CSS, SQL, Processing, Perl, Python, Arduino, BASH
Things I'd like to know more about
C, C++, JAVA, Android Dev
Ideas
Ident
How to make a ME!
sudo adduser --gecos 'Matt Meier' --uid 9653 --shell /bin/bash wolfy

Where Did I Leave My Keys...
SSH
ssh-dss AAAAB3NzaC1kc3MAAACBAIWFz6/5MiX7LWXzDTZaK/o2ry2HIef3EyGH5aG8nH9DUT6bA5JuUEdYe+MMhHrjZL37XY+kw4XOquFG0Fsij3qVN2bApwtF4VjOGyqMezG7yUyY4FJ5Qre448q9qNCr9l+V0znDnMNdETa+h2BXTA1A/UuAffEN5H9YFapv69aLAAAAFQCsYLycjnlMMFHjYtGYCI3BV4nSYQAAAIAoZOr2JNBjQ1inkccbkMYdxCReBFSOOiyiX/txUicokNwRwELBQ7YcVeSas9Z6f+YeEXg2wVV3VEFOG7WC9juPsVufbwWvQdGZXQMCUzNliwva7Hx3TIr07AoXM1p8hEiPlT5+KowaAX94FY6FRapGdABs36sFJT4mqARIbdzxuAAAAIAjbgWWKqUG2sjmallZuVo/Zlt3sRIB5x3w7+fIWgPUrUTg+QhzLWHXp+ca4vWGUSXifWRJfB3d0Sa+XBzlR/kyHLs/Fj3ee5Tbevx8kvirYE1JHciXHFzH36INwpsTiArJdOxgb5yfr3DWYmdFBl8sqZc4znKWrKeiZdG+RpsZBQ== wolfy@wlfy.it

PGP
-----BEGIN PGP PUBLIC KEY BLOCK-----
Version: GnuPG v2.0.14 (GNU/Linux)

mQINBFCj6zwBEACn8NZl/X5VB/8z1WG56lCgqT6wuMGOy0YEeGejJpO5pz8mBH1H
gfMwN0ag4x933Dh0rHk0G5UggR7Zo+y6yuV2ZjPAc7KWBt315V2XiSSqFDt2ktO2
ZsX5iVorfFe6dZI+1bJ3dGztitLstwZrhRJbf3vGIwbAfxv9cfOk2bMgusQBStSD
F/qHYLIegK869h0VVG+lwzogkoXCEFeLsSr2xcrvxXak5OYhBcP0G7ij+emVCyXA
k60Ovu9Nm5n8RqdQMhfqyEMkgefYqQ9EICb20ef8a5BDBZUV8lFh3iHoHVAplpUv
5AVfLNHrEyZr4eS70FFvoGtkUH0Do6oTOblGqon2KcgFfvtOu/EjGj7tgS1KTa5I
RBLVfooA1zaBVL5/QYcNHA2gAfevvFc03VkUDNSLW3K6n4Lc1YCo2llSIJgaNjdO
EBuuoolYC1Jkc3K+RklIj4hkHC1WSpbwb7b8yBvSlqWwkJEkFjUbF++CTxVIEQ/v
Hu58vCm8QlkcYkx/bML7KodxqYK8fQPg6TvoUlhe7zb5UKH7ggCljn9sraHZucbu
vX+0Xmwd2nMx9RirYwojVlM1njP07MhRtEJUTYeKmCZN+lXQrvPdmD24kBswkO2k
Hy+NG/UQ4gUuDN0fxIikiyQR1moq45bBI+j2Pt2DOa5OIusD0QpJ31T09QARAQAB
tCtNYXR0aGV3IE1laWVyIChXb2xmeSkgPHdvbGZ5QHBldHRpbmd6b28uY28+iQI+
BBMBAgAoAhsDBgsJCAcDAgYVCAIJCgsEFgIDAQIeAQIXgAUCUKPz/gUJDWkKwgAK
CRAAyj+Bytrb18G0D/9fa8f2ktwFTaSQ8qqRn7cJCsj4oVT6UFvKreJ7M4s1g7y3
dQTbNSVfQEXY9puY98nD7Zm7y3iBnOq+v8bB0R6Lo0lSaHetV+kgAQXWHEmrvGOw
jfy0NlT2Eu9qwavAPMZEHn4ZR6cKwxCiAIyuzLF3eIGvrYJcIEknu1kvwdg+Jd8G
c7zmEqrQ3V02sV19S2bA80U1yNvdiDtVr/HqRx3LP+qXbii1MgVM4qV+HjiEaK1w
Ept1hAJXKHeHlIsKI+lkS68WtNgjIiyVUWq0sbMucdHVQU2/fCGJ080x7tepXXzw
33nap4hv8nhYw4ET+NS+llJ4xrRkA/3HIXrYdu4g3dXlmRU1ghlgEG+SxXFtUb1I
PYAtQLmhmV6Xm18R/GHodGNsordHzh0uhYkTNSQIgKjSCgFv1b1jFs7tsK7TKmP4
+GS0Vwzm+bIaGtVqGresAVEAEFwUrJMZ9d9BPiLItHQmwZNZpLqjdrUuZ7cYmp00
PCWroVeIrP66xmJRFIrm4CJ/AGk0ZxSyDZgn8dFsxploO/+zNeV6lqfvQn3aCMsB
4XpnIs5Eq0x/WYwQwgZhTJUX5G/Sx9J/n5JnDeAntiJ+EkbsxQSrmw4nVzmeS26M
Z7N8KWlfTx2SNyPrl5oONHMRcZY6mcR6OK0WhJIBO2h/K38c+N7zUwh1d2+/cLQl
TWF0dGhldyBNZWllciAoV29sZnkpIDx3b2xmeUB3bGZ5Lml0PokCPgQTAQIAKAIb
AwYLCQgHAwIGFQgCCQoLBBYCAwECHgECF4AFAlCj9AEFCQ1pCsIACgkQAMo/gcra
29cbaRAAkBOAr2V5h+T8ArF/hS9j7/gDP5UCcxFsdRdbJqK+zLpWNBRNNmsPgzPR
AmuQL8Ckj/+e4+7QuHe2kh1vYHdaYaFK/qvEPuoFrnwZXbuWuXZO9hFkNUEy9RZd
lCKPXJlDQMIQJRP2kLQEvokE/+N3KehDnCkCF0GxiPLp5GFneAvV2FluBqYhULM0
D6bgbj3J1TyT+DS8SSIlpIA1FCN5zpArti8I3OKdfUsA1lOqIs2wB20wO6wbzmny
IY6dDA32GJln83SaDdH6jEaNVFjT1W/pLbQ5gK+2pi5Aw6VTFz8BYAp4CSDpZpa5
z0MO3pyMOfjEjKwGXA2wVYBbm/pKP99FmtPEPz9oqwXeksTbVycDZyf8R6U+imq+
5MjhQxzGKSuMuI4DUvyLKczaZGgl56K95akgydLY2ET3nse6wilZt124GJ8u+0K1
kWe1elxFvjb3ZDqUCyhH/JnRhGGvHtCp5oXcRp/NLLE63ShXagnxJsAYN7Ejr7+w
FmO/KbgsggomxGKjHI2Ayhh0x+vv6CXHnW4dnPPnnlZnTVR4ZJkwXEIgCn7xqA/N
aGkLdLrIUkmLcQovKSVAY4AA6vEB4RMW74ZRIAsI16aWH2ZiHTtULJcZYx1nucBn
OC3zu43x0GHLRDkpx1+tJ/MSRDKjAQwEQ1FtUWgT1vVipGB3MRW5Ag0EUKPrPAEQ
ALz0IV7qzkyl1RxAG4rmH9hRiN6MzvZUwonJ/zJriGyAY+eC1NbjcMeicbG71W31
qH80oW06VfuROgUt5YoHg1Qu7tazMF06VV2MDau4Q0GYYk+Pi2x4HRTL4UvI/f/B
dy+EbuWdOrUPW9nQw49JzgV2EW6vbyDWcEQA4LUOW48kAygUTS1J2QLM6h/V0ZyZ
Brp9JiBH5m3X9KRSlLw1k9WN7gIDU7PBaTRHl1OP8GrYQ15wyTSYYGCR/wCZBiyv
//HKAKSCxXG/ADHKmu6nIl0BCtJmciK91mLfJAQ7PUoQz0lHO+DT/Aft+qqOsAKw
SClBo2NZVAGfhEyDrPBZWrjayNdWPSxO3DHmkvBUJyon3pceofbzfCZJQUhGfPaE
ir9FLRumf/4McgPf2UzsS7kal324e98FS0QtrU/VmurTnarNcXJbiS9EqI8y4Bko
91dH0Te7dKaYyZWIbSeJyxqqbD2bxrGlWS+d9N6iHXxv7tH6EJ7qSsyFHBUNFP7F
fIrDb0FeWG9K0NBSTfm9CTCmMyfrJjYnnB3GhsAtVfRCsus2RVOHJvYnEETWKP6K
w2yu6zAXzx5hSGpsB6jGItETm8vaELcZgT2LoM506F87h/oMPDqo5FEwD4sfnc9g
1rU/qsjuVssrBkm+bfT/A6bzhU5BwDr2+jEYhtpBU8B9ABEBAAGJAiUEGAECAA8F
AlCj6zwCGwwFCQ1pAgAACgkQAMo/gcra29eS5hAApXU8zYsAjKImvpaU/o0x10XK
Tsze2PiJ2yIftqV017p8pZkrB0LUyjUu4i0ZHL7jarr+WTam8CxS5wNlE/vSm6jC
Za1xftg0/MDs9wGgG5ww5NxQ/VqkaFCijoNYNqtyZQAvv0wEM525cxfDYcW5MVkZ
yoBTHNu4AIdEoPLtpiNcn7osYkBbIYIZUW9cRQM6eA6nSc2eUiFVa+q79vNHOzka
epfOzM1AxpWyTCMfDHcXQZRoQjDY3vB9UnKvejv+prsNVQJsC7j6ykPuOuI8ojUx
TT4gKun9suMdAmvZgy/5oYoiJxqncwMw2oFS5dlH+4ZFAnlj+7QqucyPTbZAwMn8
FUT/7yxEIPkRYpVTPWf9vZBc3NSCAfToIjum+jjhSsB7Lz3KdUOnj1SZgSS9cAGh
ud8rdSqz8rQHmbI/mQoZ1UzWI46UMmjSLszFyVLRynogfvpIRGR57Ai7skleNR+J
xTxMmYw0iGwRsTnHJKIJbCVDi4C0swxR+1UT9kNHR8rGNQQxYKOgdcOFVqhyFM+0
BWD3Qb8Pp61kjYEAYy8mDybr7uoASLGKKzu1bd1ax2gP+QfEHdaU7d5szbjA3OLl
J9p4lRYAtmEh5xPhhGwBzKAlz/9vM/Z+A8lb+QQrU1FRFXNNLQlq6jCL5SBNMkBU
ZCi75vAuGX6PI6Zataw=
=5nBv
-----END PGP PUBLIC KEY BLOCK-----