Date/Time
Date(s) - 2015/04/28
6:30 pm - 9:30 pm
Location
Sudo Room
Categories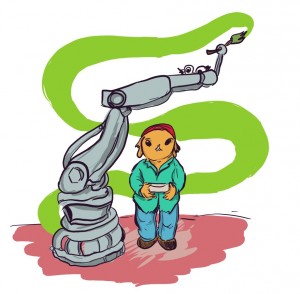 Cartoonist Conspiracy SF Session at the SudoRoom hackerspace next Thursday
We are going to escape from this crazy mix of hackers with some cartoons and drawings of the night's shenanigans
Let's draw:
the weird projects that the Counter Culture test tube labs are creating. Artificial cheese that comes alive! Mushroom spores! Test tube bionics!
3D printers of MRI scans
Activist anarchists hard at work creating yoga pamphlets in the printing press room
Dancing robot arms that draw with markers (it exists, for real!)
Let's blog the results on the SudoRoom blog. We cannot let science live without the  twisted cartoonist art of the underground in San Francisco.
Cartoonist Conspiracy vs. the Crazy Hackers