Date/Time
Date(s) - 2014/06/18
6:30 pm - 7:45 pm
Location
Impact Hub
Categories
NOTE: For now the OPWG is meeting at the Impact Hub, 2323 Broadway, Oakland, subject to change. When the Omni-Collective gets more sorted out we may decide to shift to that facility at 4799 Shattuck Ave.
Join Oakland Privacy Working Group to organize against the Domain Awareness Center (DAC), Oakland's citywide networked mass surveillance hub, and other invasions of privacy by our benighted City Government
Stop by and learn how you can help guard Oakland's right not to be spied on by the government. If you are interested in joining the Oakland Privacy Working Group email listserv, send an email to:
oaklandprivacyworkinggroup-subscribe AT lists.riseup.net
For more information on the DAC check out
DAC FAQ
Oakland Wiki Domain Awareness Page
Oakland Privacy WordPress.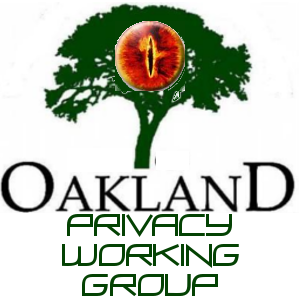 Oakland Privacy Working Group meeting (4th Wed)