Map Unavailable
Date/Time
Date(s) - 2014/03/30
6:00 pm - 7:15 pm
Categories
On Sunday, March 30, 6:00PM @ the Sudo Room (2141 Broadway Ave. Entrance on 22nd St.) We will be having a meeting to prepare for the Earth Day to May Day Direct Action Assembly.
We are currently inviting people to help spread the word, make proposals, and to facilitate the assembly.
On the agenda:
Facilitators: 
Currently we have a facilitator but could use additional facilitators in case of a problem.

Proposals: 
There are proposals for a mass labor rally and march, several job actions, an East Bay and SF Critical Mass,  Guerrilla Gardening, Panel Events, Presentations, ect.
There is also a Non-Violent Direct Action proposal (includes right to self defense) and a Non-Compliance proposal.
Food:  Food will be provided at the assembly.
Committee Breakout: 
We will discuss having the assembly breakout into committees such as legal observation, mediation, media, press, Non-violent Direct Action training, outreach, propaganda, labor, logistics, facilitation, events, music, legal defense/anti-repression, etc…
Outreach:
Outreaching to other organizations and individuals by handing out fliers, sending emails/text messages, publishing the assembly on websites and calendars, and getting endorsements from organizations/unions.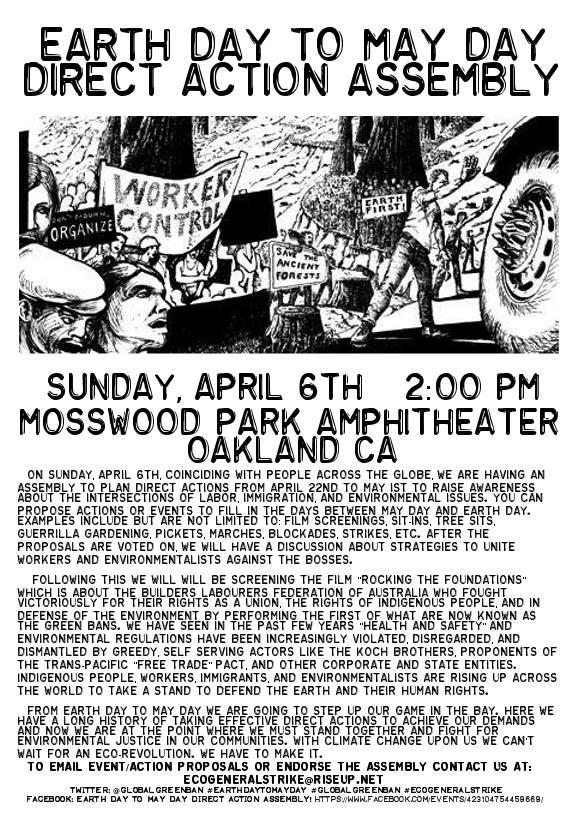 Organize for May Day meeting