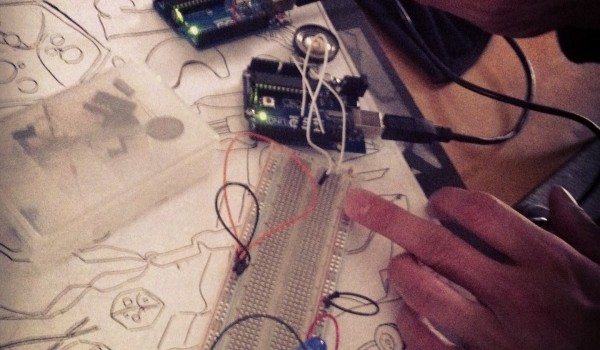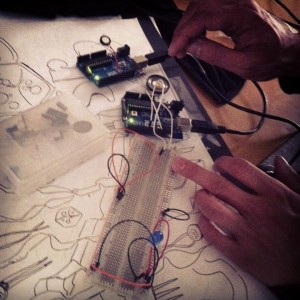 Some scenes from good times gone by: The East Bay Sound Art Meetup jammed at SudoRoom in 2013: There was one person who wasn't a musician who was learning Arudino as an amateur, some cool professors from the Contemporary Information Arts department at SFSU, and more experienced programmers like Tilo who were extra humble, helpful and went about explaining stuff very patiently.
For the majority of the time we were not looking at powerpoints, watching commercials or looking at social media on our smartphones. We were engaged, chilling with each other, and learning! All of the interesting electronics components, and fun manuals on things "that could be" were transformed into something unique, breathing and human that one of us made while the others cheered on.
Then Tilo went on  with his excellent skills to show us a cool project he was working on for the WFMU Revitalize Music project. He rewrote a Mormon hymn in Arduino. Check it out here:
What can I say? It's just so nice to go to a hackerspace. Going to a fancy tech event is cool, hanging out learning at a store is ok, and visiting a university can also be fun. But there's something special about the mind-meld of irreverent pirates, people who are allergic to aggressive recruiting, and mixing in spirituality in an age where everything is monetized.
It's that special sauce that only a hackerspace can provide. I'm very grateful to have experienced it!
Here is more of Tilo's work from that session:
Blast from the Past: Writing artsy hymns on Arduino!