Map Unavailable
Date/Time
Date(s) - 2014/01/15
6:30 pm - 7:45 pm
Categories
The Oakland Privacy Working Group will meet at the Sudoroom Wednesday Jan. 15th at 6:30 to organize to stop the planned building of an Oakland-wide surveillance grid to monitor the citizens of the East Bay.
Approval for a contractor to take over Phase II of the DAC contract from SAIC – summarily dismissed months ago for violations of Oakland's Nuclear Free Zone Ordinance – is supposed to take place at the January 21st City Council meeting.
For more information on the insidiousness of the DAC and how it came to b in Oakland check out the DAC FAQ, the Oakland Wiki Domain Awareness Page and the Oakland Privacy WordPress.
OPG hopes to have a large presence and a big rally on the 21st in front of City Hall at Oscar Grant Plaza, and YOU ARE INVITED.  We are planning to have potluck food & drink  at the plaza at 6:15 before going in to the council chambers to voice our opinions on this spy-network. So far the City has always scheduled this skulduggery as the last item on the agenda, well after midnight, to try to discourage public comment, so we are planning to show movies in the Plaza to keep folks entertained while waiting for the item to come up.  Let's stop this fucking thing, privacy is an essential element of freedom.
Join Oakland Privacy Working Group to organize against the Domain Awareness Center (DAC), Oakland's citywide mass surveillance center.
If you are interested in joining the Oakland Privacy Working Group email listserv, send an email to: oaklandprivacyworkinggroup-subscribe@lists.riseup.net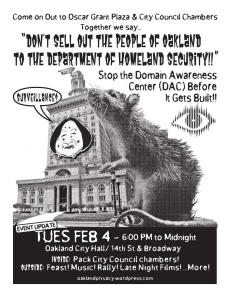 Also:
Sign the on line petition against the DAC.