Map Unavailable
Date/Time
Date(s) - 2014/10/11
2:00 pm - 4:15 pm
Categories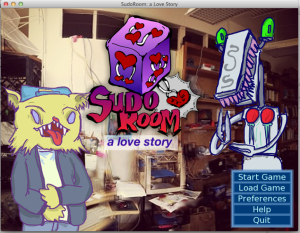 Have you ever wanted to make a cool game a little different from games out there?
Something more literary, with story and character development, that didn't involved shooting people or pointing and clicking to get to the next in-app purchase? A game that would enable people to empathize and learn?
But man, not everyone is a games programmer! That takes a lot of time, and is rough stuff entirely.
Well, guess what, it's possible to do this without coding at all thanks to Open-source frameworks like Belle and WebStory. No need to fight through fancy 3D graphics software, no need to get difficult many-strings attached game making software… let's keep it open!
Audience
This class may contain mature themes, so it is appropriate for adults.
Maybe we can do a child-oriented class during daycare or while someone is babysitting!
See our wiki for more:
https://sudoroom.org/wiki/GameHacking
I'll show you how I intend to create a fun, cool, weird little game that enables outsiders to get to know the SudoRoom, understand interesting projects like SudoMesh, and  have fun.
What to bring:
Your Own computer
An idea of an interesting narrative story, choose your own adventure style
Some graphics/photographs

Background images
Character images against a clear background
Today We Learned: Create FUN! Games with Open Source (Adults)