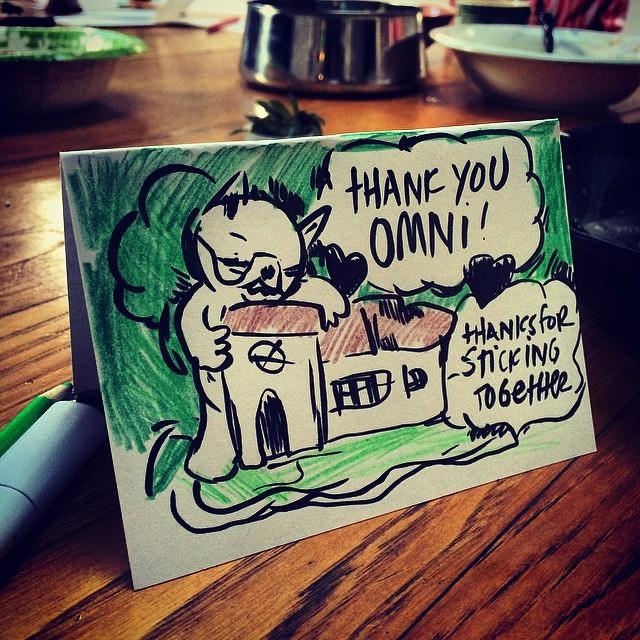 FOOD NOT BOMBS will be hosting a FUNDRAISER for Oakland's Omni Commons, an awesome community space that hosts over a dozen social justice and art collectives, and YOU'RE invited!
Come prepared for:
*A DANCE PARTY! (or several)
*Readings/signings/open mic!
*COMEDY by GEORGE CHEN!
*A DELECTABLE vegan meal!
*Meeting the best friends you'll EVER have!
…and MORE!!!!
FEATURING:
Beet the System: Link coming soon!
The Bogues: http://www.paulgriffithsmusic.com/#!the-pogues/c1i2f
Las Sucias: https://www.facebook.com/sucieria/
https://soundcloud.com/lassucias
Bicicletas por la Paz: www.bicicletasporlapaz.com/the-band/
V.E.X.: https://www.facebook.com/xanaxax/?fref=ts
Black Dog:
http://blackdog1.bandcamp.com/releases
https://www.facebook.com/Black-Dog-1650939051809368/?fref=ts
Interested in performing? Decorating? Cooking? Promoting? Reach out to Saryta at srod622@gmail.com and Arthur at arnoldmcpeebles@gmail.com.
Suggested donation: $15 to party, $10 to eat, $25 for the Full On Experience. (For the time being, count on buying your ticket at the door 🙂 We'll let you know if there's still a presale!)
ABOUT THE COMMONS:
The Omni Commons is comprised of several Bay Area collectives with a shared political vision—one that privileges a more equitable commoning of resources and meeting of human needs over private interests or corporate profit.
We invite you to join us in establishing a safe, productive place to pool resources for the collective use and stewardship of the greater community. A space that fosters an ethic of radical collaboration across disciplines and between individual collectives, creating a living model for future radical spaces. https://omnicommons.org/
About Food Not Bombs:
International- www.foodnotbombs.net
East Bay- ebfnb.org
CAN'T WAIT TO SEE YOU!
Omni Commons Love Party 2/13