Date/Time
Date(s) - 2013/04/15
7:00 pm - 9:15 pm
Location
Oakland Makerspace LOL
Categories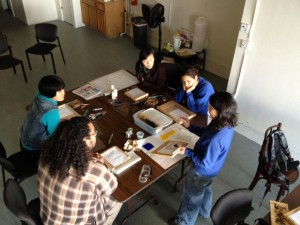 Experimenting with a new night + earlier time, hopefully to make it easier for people to show.
We really hope you come, especially if you have no programming experience whatsoever. We will teach and work with you as your share your stories.
We also hope you come if you are hacker elite, and want to talk/share about your project, and help mentor other people that come.
After a couple of nights of doing this, we've had some great things happen in our sessions:
We've talked about our various struggles and successes perspectives as women and as POC in technology
We've had one person write and debug his very first program
We've explored digital publishing for comics and how to tweak analytics for your website.
We have had extensive co-learning and co-teaching with everyone learning and teaching in all sorts of things including processing, javascript, computing history, and some exciting new tech coming up.
Hackers extraordinaire Carmen and Praveen will be your hosts for the evening. Come and program with them, or ask them questions about programming. In addition to being masters of technology, they are also very nice people.
Please bring a laptop if you can, or you can share with someone there.
About Oakland Maker Space
a People of Color led, gender balanced makerspace for Oakland!
We are volunteer run and donation based. We are open when our members or volunteers host meetings, events or workdays here.
We are here to promote community self-reliance, self-determination & economic justice for the under resourced. We aim to provide education in the STEAM (Science, Technology, Engineering, Arts and Mathmatics) fields between neighbors, friends and communities.
General Information
To schedule an event or inquire about workshops visit our website: oaklandmakerspace.wordpress.com 
Donations of $, time and resources are always welcome.
Hack Night @ Oakland Makerspace LOL