Robot Interviewer: Good evening, Señor SudoNode de SudoMesh, que pasa? We are so happy to interview you this fine evening during one of the weekly SudoMesh Thursday hack nights at SudoRoom.
Señor SudoNode: Good evening! I'm so happy to sit and chat.
RI: You are looking quite dashing today. How are things going? Are you up and working at SudoMesh yet?

Señor SudoNode:  Actually no, I am not yet fully born! I am still in a very larval stage. See, I'm still cocooned, preparing to burst out onto the scene once SudoMesh is up and running.
RI: So you are not yet born? But I see you here… what's the story?

Señor SudoNode:  I am about to be born. See, I'm like ice cream about to be scooped out of the box and into your ice cream cone. So delicious, dreamy and about to offer you some delightfully tasty times!
My parents are SudoMesh are hard at work, putting together the open source firmware that will transform me into a true SudoMesh Node…  I am going to be living on the side of someone's happy Oakland home, transmitting shared free internet and love.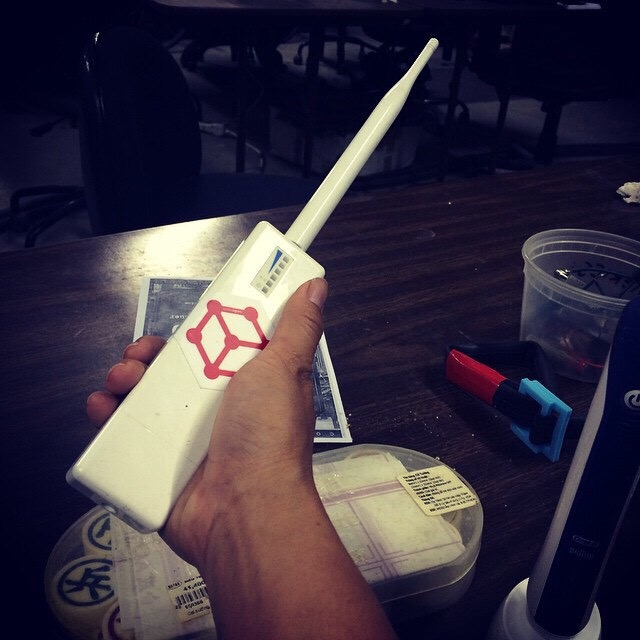 RI: On the side of a house? So there are going to be more than one of you?

Señor SudoNode:  Yes, yes. I'm going to be one of many SudoNode children. We will be embraced and adopted by a loving Oakland resident who is passionate about community shared internet.
RI: Oh so you will belong to someone?

Señor SudoNode:  There is a passionate community-minded Oakland resident out there who will adopt me. I just know it. There are already dozens and dozens of people who have lined up to be potential sudoNode parents to be. Want Proof? Just check out this map at meshmap.sudoroom.org
They are all over the place! You can even add yourself as a future parent if you want.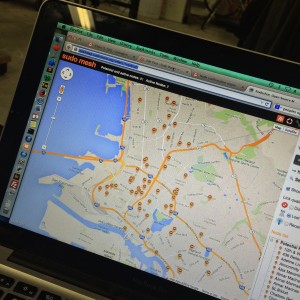 RI: So there are tons of people digging the idea.
Señor SudoNode:  Definitely!
I'm also offering, when we work together, a collaborative and extended internet to places never though possible. It's like a big, gigantic G-rated love fest.
And the beauty of it is, the closer all of us sexy SudoNodes are all clustered together, the better able we will be to create a constant flow of delicious internet, even to places that aren't necessarily covered by commercial DSL and cable internet providers.
We could be going up to the mountains, maybe even out into the sea! There are quite a few people living in boats on the Berkeley marina.
RI: Are you a cheap date? A pricey adoption?

Señor SudoNode: I am a great value, but I am not cheap although I am easy 🙂
Costs will be under $60 or $70. You will become the proud parents of open-sourced internet and a better future for small animals, children, parents and the community.
RI: Wonderful! Are you very energetic? We don't want to rack up a big electricity bill!

Señor SudoNode: I use energy but not that much. I am packing a lot of punch for my small, sexy size. The electricity will come from an ethernet cable plugged into my nubile trim bottom. No other cords required. I am no ball and chain, believe it or not.
RI: How do we get you?

Señor SudoNode: I am for getting adopted as a mascot, but we are holding back so that folks do not have to spend a lot of money up front. But if you are really really into getting me, since I am a symbol of so many great things, you can stop by SudoRoom on a Thursday SudoMesh hack night and maybe sweet talk your way into becoming a proud parent of a sudonode to be!
RI: Great! I'm so excited. It reminds me of some kind of Dharma Initiative LOST TV show  project gone right.

Señor SudoNode: Yay! I confess, I must be off now. I need to get some adjustements for my firmware. But we can do a friendly interview another time, maybe to discuss things like the free internet, community open source and power to the people.
And please, DONATE! Donate! Donate! We are always needing your time or respectful monetary donations that will help make the world a better place.
RI: Very cool! Until next time.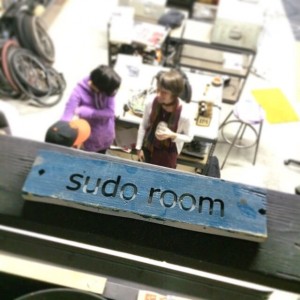 Señor SudoNode: I'm Easy, Part 1